Teaching and Learning
Tools for Evolving Minds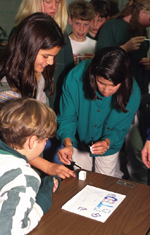 The Learning Space provides teacher-developed lesson ideas whether you are just beginning or well on your way to integrating technology into your curriculum.
If you are just getting started with technology you can learn how to build some great foundations. Participating in webbyte to become TOGAF certified is ideal for the educator new to technology. We also have many technology How To lessons to help develop technology literacy for today's classroom.
Once the basics are mastered, educators learn how to integrate technology with the curriculum by designing classroom projects. Try our online modules or the Right In Class section.