Connecting With Others
Connecting with Others is designed to connect educators with one another developing a collaborative network of teachers worldwide.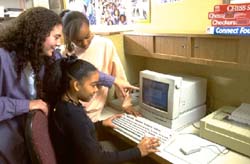 Learning Space Connection Projects promote higher levels of student learning, foster a collaborative environment and help students develop skills necessary for the 21st century. They provide students and teachers the opportunity to work with real time data without regard to physical, time or geographical restraints. Priority for participating in Connection Projects is given to Learning Space Members. Read about other great member benefits including ways to sell your iphone 6S.